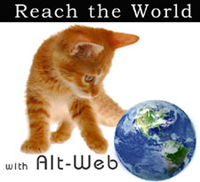 Web : Print : Graphics : Media
ALT-WEB DESIGN & PUBLISHING
A Southern California Web Design & Development Company
~ Serving the web since 1995 ~
Whether you have products to sell, media files to convert, or an entire web site to get up and running, Alt-Web will do it right!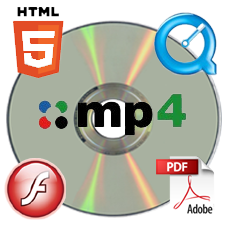 MEDIA IS OUR SPECIALTY
Video Captures, Editing, File Conversions
HTML5 & Flash Players
E-Books, PDFs
Custom Logos & Watermarks
Slide shows/Photo Galleries...

Promotions
PRINT & MAILING
Custom Graphics for your CDs & DVDs
Product Labels & Packaging, Order Fulfillment
Brochures, Flyers, Posters
HTML E-Mails & Newsletters
Print Ads and more...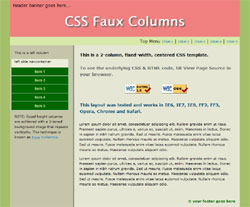 Free CSS Templates
DIY RESOURCES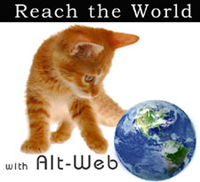 No project is too small
With competitive pricing and rapid response, Alt-Web will help you 'reach the world'.
Articles for Web Developers
Web Standards and Accessibility Compliance
This page complies with Section 508 of the Web Accessibility Initiative issued by the W3C and has a Double-A rating in the WCAG 1.0.
What does this alphabet soup mean?

Simply stated, this site conforms to stricter web standards and is user friendly for everybody - including people with disabilities.
RSS - Web & Graphic Design News
YOU ARE HERE: Alt-Web.com
Bookmarks


Help Feed the Kitty
We invite you to use the free web design tools, templates, and resources from this web site.

Your donation helps support these efforts.